NU SKIN Volunteer Team Take HKSPC Kids to Enjoy the Lantern Show (September 17, 2014)
NU SKIN Volunteer Team
Take HKSPC Kids to Enjoy the Lantern Show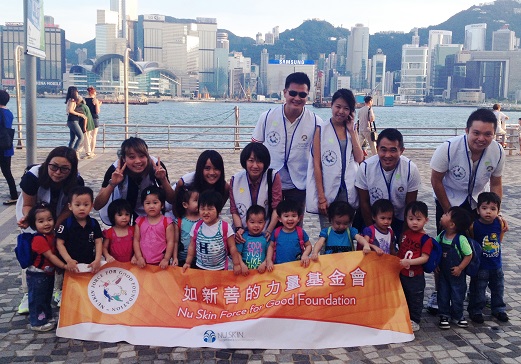 On 10 September, 2014, anti-aging expert NU SKIN Volunteer Team with eight volunteers led 15 kids from the Hong Kong Society for the Protection of Children (HKSPC) , enjoyed the Lantern Show on the waterfront of Tsim Sha Tsui to share the joy of the Mid-Autumn Festival. The kids with beautiful lanterns went to Tsim Sha Tsui by tourist bus. The kids were very excited when they saw so many different shapes of lanterns at the show. And they also learnt the stories of the lanterns by the volunteers. The NU SKIN Volunteer Team and the kids spent a wonderful and happy afternoon together!
The NU SKIN volunteers who participated in the activity were (listed in no particular order): Li Wai Ning(Captain), Wong Ho Yan (Vice Captain), Lau Wai Chun, Chung Lok Yee, Lai Yi Tak, Chow Chi Hoi, Wu Man, and Tang Wing Hing. The following is the volunteers' feeling about the activity:
"Thanks HKSPC for giving me an opportunity again to make some contribution which reminds me of how lucky my daughter is. I would also like to thank NU SKIN and my team." Li Wai Ning said.
"I am so happy to participate in the volunteer activity again. I hope that this simple activity can bring the kids a memorable afternoon," said Wong Ho Yan.
"This activity made me very happy. I further understand the role of mother is a difficult one through such an activity. I really hope that the kids would have a happy childhood," said Lau Wai Chun.
"It was pleasant to go out with the cute and lovely kids and enjoy the lantern show with them. We were very happy to see their happy faces. I hope NU SKIN can organize more similar activities in the future," said Chung Lok Yee.
"I had a very meaningful day. The children could be made happy with some simple things. They enjoyed our companionship and trusted us although we were strangers to them. I hope that they will grow up healthily and happily every day," said Lai Yi Tak.
"I experienced the passion of the pure and lovely children and learnt the responsibility of parents through the participation of this activity. I do hope the kids will build a healthy family in the future. I am grateful for having today's experience," said Chow Chi Hoi.
"I am very happy to take part in this activity. I hope that I would be able to meet the lovely kids again," said Wu Man.
"It was wonderful to participate in volunteer activities of NU SKIN! Not only was I able to bring joy to kids but I had a sense of satisfaction," said Tang Wing Hing.