"5 Motives Success" the 5 Success Stories You Must Learn – Set Goals, An Nguyen 2014 NU SKIN Academy "Let Your Dreams Fly" with You (October 29, 2014)
"5 Motives Success" the 5 Success Stories You Must Learn
– Set Goals, An Nguyen
2014 NU SKIN Academy "Let Your Dreams Fly" with You
"Let your dreams fly!". When facing challenge, you must hold the 5 motives "Dream, Set Goals, Believe, Take Action and Lead". No matter how small your dream is, it can be realized someday! This is the theme of 2014 NU SKIN Academy. It is also the first time we hold the event in the Cotai Arena, The Venetian, Macau which is the largest arena in Macau and accommodations in 4 5-star hotels in Cotai, leading you and your business partners to move forward!
By extending "NU SKIN 30, Create Smiles" in these 3-day-2-night journey, NU SKIN invited 5 elites from overseas and in the Greater China region to be the guest speakers of "5 Success Motives", to share their success formula with business partners. It would help the business partners to learn how to break through, overcome the difficulties, and bring more business partners to move forward to the higher and further goals in NU SKIN so as to empower people to improve lives.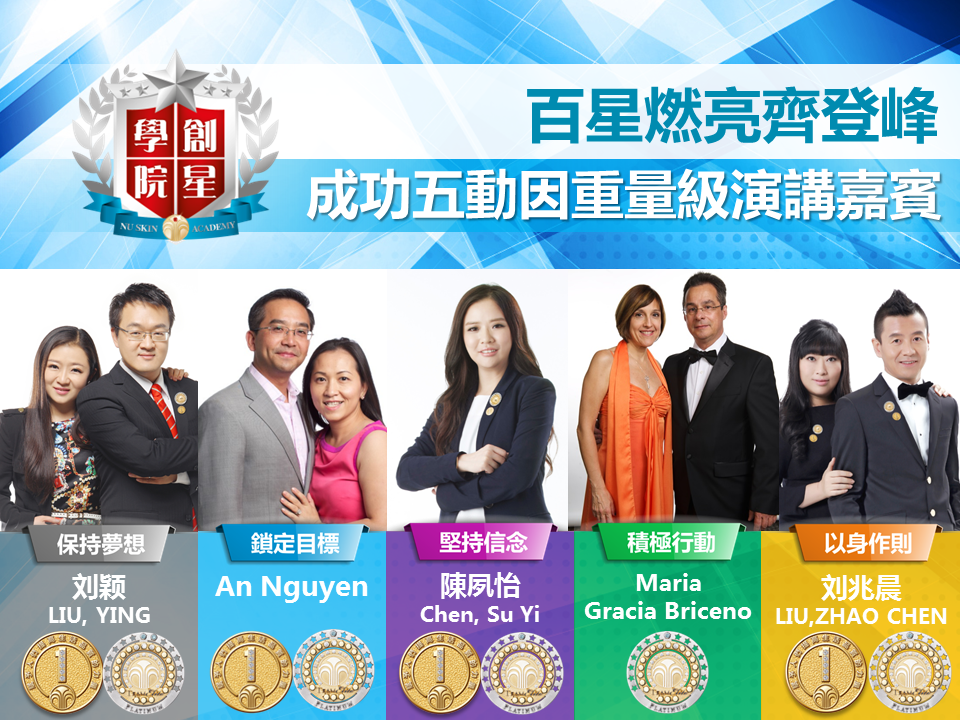 "5 Success Motives" Guest Speaker Introduction
Set Goals - An Nguyen

An Nguyen thought he had his career all mapped out. He had a B.S. degree in engineering and an MBA in marketing, and his 10-year goal was to open a chain of 1,000 Vietnamese restaurants. His wife, Kieu Dao, had a secure position plus benefits working as a pharmacist. And then they discovered NU SKIN, and they began to rethink what they wanted in their lives.

In NU SKIN, An saw an opportunity to build an international business focusing on the company's anti-aging products, without the stress of other traditional business expenses. Kieu saw the ability to spend more time with their three daughters.

Adopting the old adage, "Where there is a will, there is a way," the couple made a decision right from the beginning to be successful, knowing that it would take hard work, commitment and sacrifices. Whenever he was distracted with anything that interfered with his progress, An says, he pushed it aside and focused clearly on his goal. "My biggest breakthrough was when I became a Blue Diamond Executive," says An. "I knew others would soon follow. I had proven that it could be done." And while he was excited about his own success, it was the success his team members experienced that pleased him the most.

In leading his team, An believes actions speak louder than words. "Whenever I ask my team to do something, I make sure I do more of it," he says. "I am in the trenches with them, see their challenges, experience their pain. My motto is 'together we grow.'" Today An and Kieu have both the financial and time freedom, along with many friendships they have accumulated throughout the world. They also give back by participating in Nourish the Children and by supporting the Force for Good Foundation.
An Nguyen is ready to share his success story by working hard for his dreams and create a better world in 2014 NU SKIN Academy.
Introduction of other speakers will be coming by next week. See you in Macau from December 16 to 18, 2014!
For more information, please here to visit our website for more details.