2014 NU SKIN Master Forum "Man Of The Year" by TIME Magazine, Professor David Ho, Visiting Greater China and Joining a Forum with Business, Politic and Academic Elites (October 29, 2014)
2014 NU SKIN Master Forum
"Man Of The Year" by TIME Magazine, Professor David Ho, Visiting Greater China and Joining a Forum with Business, Politic and Academic Elites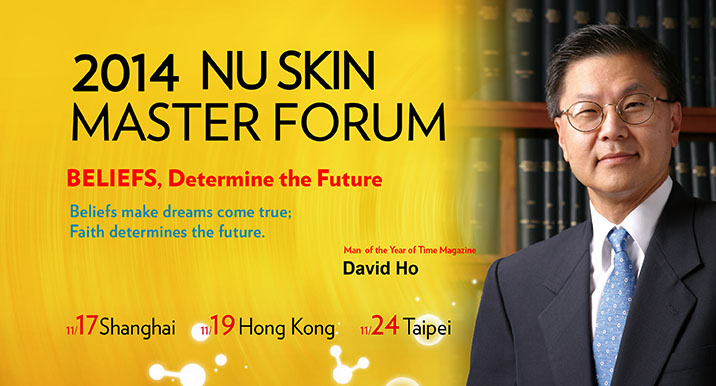 NU SKIN Master Forum has been the most attractive and influencing event in NU SKIN Greater China Region. Professor David Ho, one of the global medical giants, is invited to give a speech on "BELIEFS, Determine the Future" this year. The Forum will be grand hosted on November 17 at Shanghai Grand Stage (Shanghai Gymnasium)、November 19 at Hong Kong AsiaWorld-Expo、November 24 at Taipei International Convention Center.
At the same time, the forum will also invite elites in business, politic and academic fields and media as panelists to this amazing seminar to exchange the wisdom with Master. On November 19 in Hong Kong, the panelists include Director of EMBA Programme in the Chinese University of Hong Kong, Professor Andrew Chan, Polar Scientist, Dr. Rebecca Lee, 2014 Incheon Asian Games Windsurfing Gold Medalist, Hayley Chan and the 12th National People's Congress P.R.C.(H.K.),BBS, JP., Brave Chan.
Want to understand how Professor Ho does what he should do with strong belief and demonstrate the power of belief? Don't miss the 2014 NU SKIN Master Forum!
| | | | |
| --- | --- | --- | --- |
|   | Shanghai | Hong Kong | Taipei |
| Date: | November 17 | November 19 | November 24 |
| Location: | Shanghai Grand Stage (Shanghai Gymnasium) | AsiaWorld-Expo | Taipei International Convention Center |
| Time: | 2:30pm to 4:30pm | 7:30pm to 10pm | 2:30pm to 4:30pm |
Please click here to visit the 2014 NU SKIN Master Forum website for more details
Media Coverage
Date
Media
Subject




October 14, 2014




wenews




NU SKIN-2014 NU SKIN Master ForumTickets start on sale from October





October 14, 2014



News online




NU SKIN-2014 NU SKIN Master ForumTickets start on sale from October





October 22, 2014



Chinatimes




AIDS Expert David Ho, will give speech on 2014 NU SKIN Master Forum





October 22, 2014



Commercial Times




AIDS Expert David Ho, will give speech on 2014 NU SKIN Master Forum





October 22, 2014



CnYES




2014 NU SKIN Master Forum will be held on 11/24





October 22, 2014



Central Daily News




2014 NU SKIN Master Forum will be held on 11/24





October 22, 2014



Independence Evening Post




2014 NU SKIN Master Forum will be held on 11/24





October 22, 2014

China Metropolitan News
2014 NU SKIN Master Forum BELIFES, Determines the Future
Click Here
October 23, 2014



Power Networking Monthly




2014 NU SKIN Master Forum David Ho





October 27, 2014



PACIFIC DAILY NEWS




2014 NU SKIN Master Forum will be held on 11/24. "Man of the Year" by TIME magazine, David Ho will share the power of BELIEFS






October 28, 2014



Mingpao




2014 NU SKIN Master Forum
Dream-is the most powerful momentum to drive us finding the way






October 31, 2014
ChinaTimes
NU SKIN Master Forum-Professor David Ho Share" BELIFES, Determines the Future"