"Start Your V-Life" Goal Achievers Results Sharing (October 24, 2014)
'Start Your V-Life' Goal Achievers Results Sharing
Getting the Dream Curves!! (Hao Lu/Taiwan)
(Hao Lu/31 days, lost 2.3 kg of body fat in total)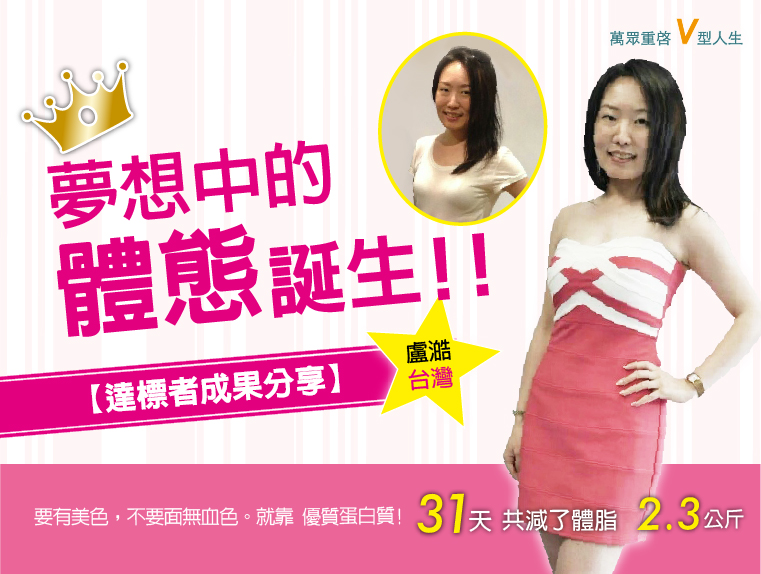 Hao Lu, was a petite lady. Originally, she had a balanced and a good looking body figure, but she believed that it would be better, if the body figure could be a little bit slimmer and curvier! More, in order to set an example for business partners and show them that "if I can do it, so as you!", Hao decided to participate in the 'Start Your V- Life' contest to challenge herself and break through her limits.
When the result came out, Hao shared with others happily, "I see a charming and brand new me! Now, everyone says my body figure looks much better than before!" She was full of confidence ! Hao's ultimate mission is to bring people hope, youth, health and fortune, and to help business partners to enjoy a wonderful life!

Be Beautiful Don't Look Pale
You Need Quality Protein!
As a vegetarian, Hao stated that her secret of success was more that 3333+ diet plan, she focused on taking six portions of protein daily, which were distributed evenly in each meal, without any exceptions. She also indicated that sufficient protein was the essential to achieve the best result. Besides, she also did yoga and fitness exercises, including planks and squats to create a nice body shape! During the process of 'Start Your Life' contest, she created a continuing positive circulation of keeping nice body figures with her business partners ! Hao encouraged others, "Keep moving every day, you have to be persistent in order to maintain a nice body figure!"
| | |
| --- | --- |
| Hao Lu (Left 1) did exercise with business partners. She emphasized on "Keep moving every day!" | Be beautiful! Be glamorous! Follow the 3333+ Diet plan. |