"Start Your V-Life" Tips for Reaching Target Quickly (October 24)
'Start Your V-Life' Tips for Reaching Target Quickly: Diet Plan
Easy Food Portion Measurement with Your Fist and Palm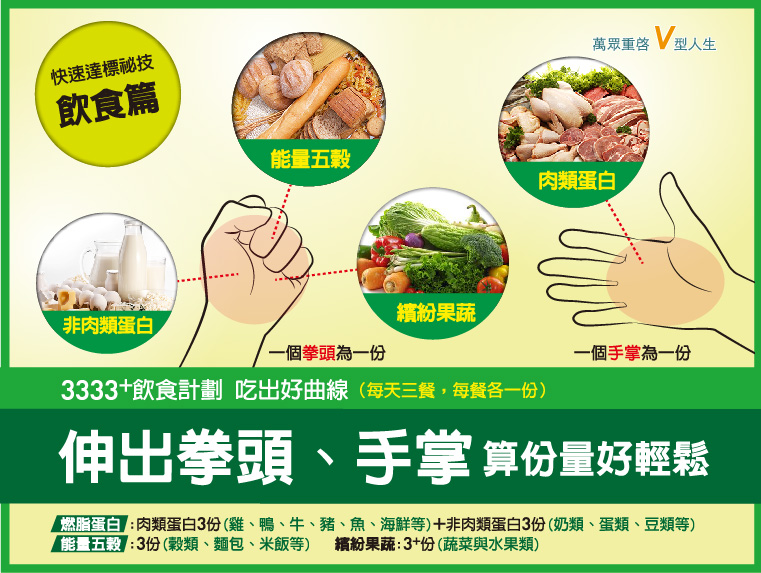 3333+ Diet plan: Three meals a day, one portion of the following in each meal:
Fat Burning Protein: 3 portions of meat protein+3 portions of non-meat protein
Grains: 3 portions
Fruits and Vegetables: 3+ portions
Lean protein can be further divided into meat protein and non-meat protein and their methods to measure food portion are different from each other. One portion of meat protein is measured with your palm while non-meat protein is measured with your fist. The easiest way to memorize the rule is to remember "meat-palm, bean-fist". Grains, fruits and vegetables are all measured with your fist. Therefore, the 3333+ eating principle means 3 portions of meat protein, 3 portions of non-meat protein, 3 portions of grains and 3+ portions of fruits and vegetables. If you do not have enough to eat, you can eat more fruits and vegetables. Try to choose vegetables instead of fruits, because fruits have more calories. Also, pay attention to the cooking methods. The cooking methods in Green Light category are the most ideal for you.
Grains (grains and starchy vegetables), such as rice, bread, whole wheat grains, potatoes, pumpkin, yam, red beans, mung beans, chestnut, water chestnut, etc., which help provide the caloric needs for your basal metabolism.
Fruits and vegetables, such as spinach, cabbage, broccoli, carrot, eggplant, pea, banana, orange, strawberry, apple, etc. which provide vitamins, minerals, dietary fiber and essential antioxidant nutrients.
Lean Protein: Meat Protein (all kinds of meat), such as fish, shrimp, shellfish, pork, beef, chicken, etc. and Non-meat protein (milk, eggs, beans), such as tofu, dried tofu, eggs and milk, which can provide enough lean protein to help maintain muscles and enhance energy metabolism.