"5 Motives Success" the 5 Success Stories You Must Learn 2014 NU SKIN Academy "Let Your Dreams Fly" with You (October 22)
"5 Motives Success" the 5 Success Stories You Must Learn 2014 NU SKIN Academy
"Let Your Dreams Fly"with You
"Let your dreams fly!". When facing challenge, you must hold the 5 motives "Dream, Set Goals, Believe, Take Action and Lead". No matter how small your dream is, it can be realized someday! This is the theme of 2014 NU SKIN Academy. It is also the first time we hold the event in the Cotai Arena, The Venetian, Macau which is the largest arena in Macau and accommodations in 4 5-star hotels in Cotai, leading you and your business partners to move forward!
By extending "NU SKIN 30, Create Smiles" in these 3-day-2-night journey, NU SKIN invited 5 elites from overseas and in the Greater China region to be the guest speakers of "5 Success Motives", to share their success formula with business partners. It would help the business partners to learn how to break through, overcome the difficulties, and bring more business partners to move forward to the higher and further goals in NU SKIN so as to empower people to improve lives.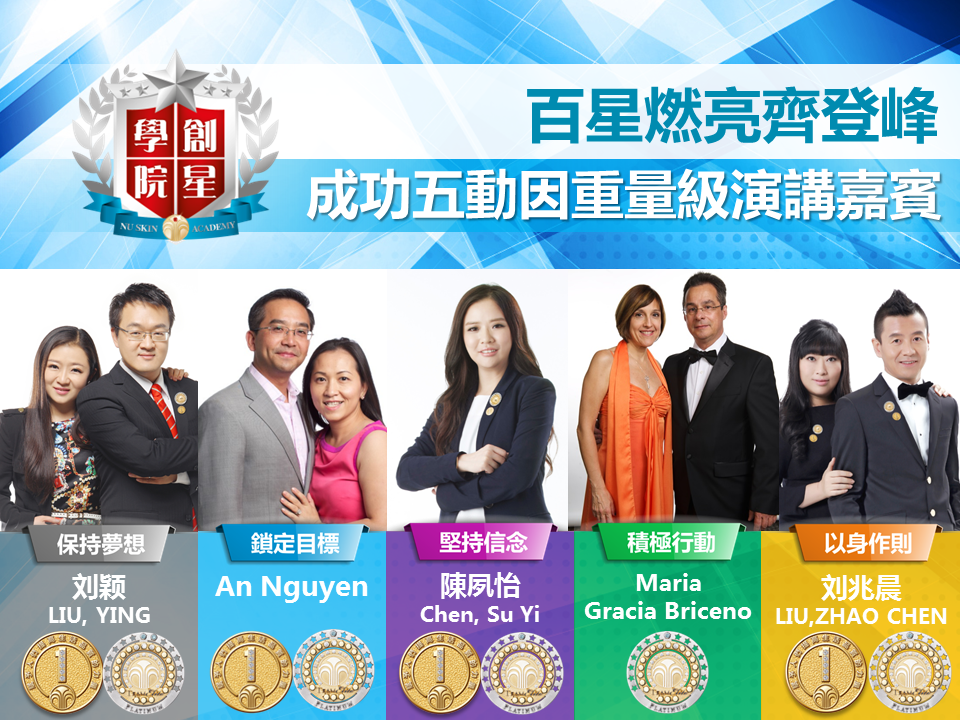 "5 Success Motives" Guest Speaker Introduction






Dream - Liuying




"Let Dreams Fly, Self-release and to Experience Every Good Thing in Life" is the biggest harvest of Liuying in NU SKIN. She was a lawyer before joining NU SKIN. She thought she was just like other working women who need to balance the life between family and career. She was worried that she would not have time to spend with her son. Until she met NU SKIN, and she began part-time for NU SKIN as she was attracted by the excellent products. 6 months later, she abandoned her promising career and started the full-time business in NU SKIN. "Life should be wonderful. Not only should we focus on creating our own happiness, but should also let our parents and kids to experience a wonderful life." Because of this dream, Liuying worked so hard to achieve her goal. Apart from brining a breakthrough in her career, she also believes that NU SKIN makes her and her family more united and closer. She could have more time with their families too and those are much more important than anything else.



Liuying is ready to share her success story by working hard for her dreams and create a better world in 2014 NU SKIN Academy .
Introduction of other speakers will be coming by next week. See you in Macau from December 16 to 18, 2014!
For more information, please here to visit our website for more details.