Man of the Year who always maintains an innocent heart like a child - AIDS Research Pioneer Professor David Ho 「2014 NU SKIN Master Forum」Online Tickets Selling for Taiwan Session Starts on October 16! (October 15, 2014)
Man of the Year who always maintains an innocent heart like a child - AIDS Research Pioneer Professor David Ho
「2014 NU SKIN Master Forum」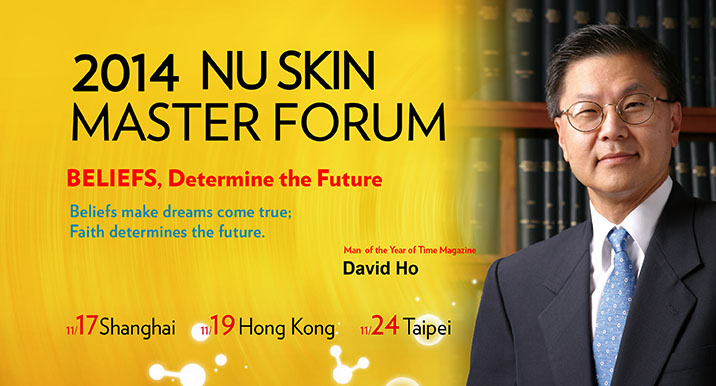 The countdown of "2014 NU SKIN Master Forum" has begun with only one month to go! Professor David Ho, one of the global medical giants, is invited to give a speech on "BELIEFS, Determine the Future". Hong Kong's Business Partners are welcome to contact your Executive Partner for more information.
Paul Ho, Professor Ho's father, was a pioneer in computer mandarinization and inventor of electronic Chinese typewriter. When Professor David Ho was 12 years old, his father, who was studying for a doctorate degree in the U.S., brought his wife and two sons to move to the U.S. When they first arrived in America, Professor Ho could not speak a word of English. Being a talented model student since childhood, Professor Ho was so frustrated with his English ability that he lost confidence. But he overcame his language barriers and caught up with other students in academic performance. When he was in junior high school, he even skipped a year due to outstanding academic performance. When he graduated from senior high school, he got first place in mathematics in the whole school and was honored with a science award. Professor Ho's younger brother used to describe him, "if there is the first place in any field, it would always be taken by David." Inspired by his father, Professor Ho is fond of science and full of curiosity in unknown areas. "I often keep an innocent heart like a child being curious. I often say I am always a child deep down in my heart. My curious personality of wanting to figure out everything on earth is attributed to my family education in my childhood," said Professor Ho in an interview when he was selected by Time Magazine as the Man of the Year in 1996.
With an innocent heart like a child, Professor Ho has devoted himself to the research of AIDS (acquired immune deficiency syndrome) for over 30 years. Although there is still a long way to go in the fight against AIDS, Professor Ho still sticks to his beliefs with the hope to defeat the deadly virus for the benefit of mankind. You are invited to witness the power of beliefs in the 2014 NU SKIN Master Forum.
| | | | |
| --- | --- | --- | --- |
|   | Shanghai | Hong Kong | Taipei |
| Date: | November 17 | November 19 | November 24 |
| Location: | Shanghai Grand Stage (Shanghai Gymnasium) | AsiaWorld-Expo | Taipei International Convention Center |
| Time: | 2:30pm to 4:30pm | 7:30pm to 10pm | 2:30pm to 4:30pm |
Please click here to visit the 2014 NU SKIN Master Forum website for more details