"Start Your V Life" Success Stories Muscle Strength Boost Beauty and Confidence (September 26, 2014)
"Start Your V Life" Success Stories
Muscle Strength Boost Beauty and Confidence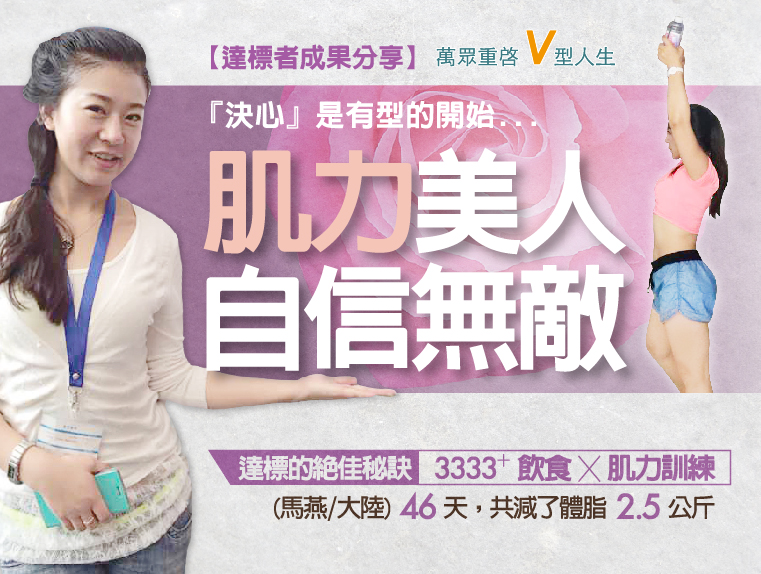 Determination to be fitter
Ma Yen was a carefree type of person, who did not really have a weight problem.
Despite the wish to be in better shape, she always lacked the drive to take action. This situation finally took a turn when she met a fitness instructor, who travelled tirelessly from Guangzhou to Inner Mongolia for the "Start Your V Life" program. She was touched by the instructor's dedication to the program and also encouraged by his self-exemplary health management. She told herself, if the teacher can manage himself so well in addition to helping so many others, I must be able to do it too.
"Slowly I can see the chin getting more pronounced and muscles more toned," she said, joyfully sharing the gradual transformational of her body during the process.
No matter how busy, muscle trainings cannot be dropped.
Strictly following the 3333+Dietary standard.
How to reach the target: diet and muscle trainings
Through the "Start Your V Life" program, Ma Yen not only improved her ability to stay focused, but also gained the physical endurance which enabled her to reach her planned goal. She wished that via sharing her personal experience, her success can serve as an inspiring example for her teammates.
Talking about the keys to reach the target, Ma Yen stressed the importance of the 3333+ dietary standard. Good protein is a must, so is the habit of exercise. She mentioned that no matter how busy she was, she maintained a daily routine of muscle training. Over time, the muscles got stronger and more toned. She remarked, " I can feel the increase of bodily strength and vigour." She encouraged everyone to carry through such dietary and training regimes as a way to keep personal health in check. To establish good habits is crucial to leading a healthy lifestyle in the long run.