"Start Your V Life" Sharing from Winners (September 23, 2014)
"Start Your V Life" Sharing from Winners
From Middle-aged Uncle to Stylish Man, Nothing is Impossible! (JianHao Huo/China)

JianHao Huo/ 31 Days, - 2.55 kg of body fat in total
霍劍豪/31天,共減了體脂2.55公斤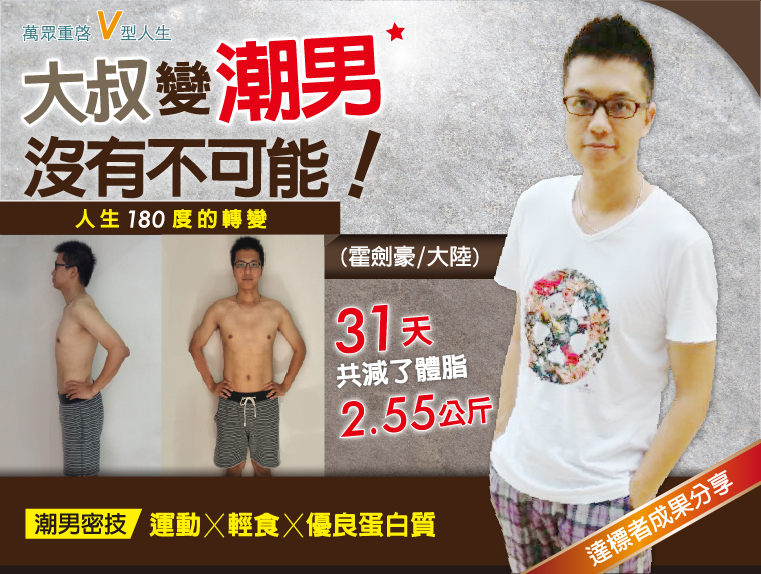 A Total Change of Life: From Middle-aged Uncle to Stylish Man
JianHao was operating a traditional business. Like many people, he had many social engagements day by day, and did not pay attentions to his diet. Moreover, he did not do any exercises. At his early 30's, his weight was more than a hundred kg. The bloated body made him looked older and caused him various kinds of physical discomforts and illnesses. When informed with the Restart Your V-Life activity, it was like a ray of hope in his life. He kept telling himself everyday during the process, "I have to have a total change!" With his strong determination, JianHao lost almost 20 kg in 31 days, making him exude the charm and self-confidence from the inside out.
Huo Jian Hao stated that when he marched towards the healthy lifestyle day after days, his friends asked him the reasons that changed him. Therefore, he invited his friends to join the exercising team and implemented the healthy lifestyle together daily. When more people were willing to join him, he became more determined. He felt he must continue to set an role model!
Tips for Becoming a Stylish Man: Exercise x Light Meals x High-Quality Protein
Since then, JianHao has insisted to have a three-hour exercise every day. In addition to doing exercises industriously, he indicated that the tips for achieving the goal successfully also lie in following the strict eating plan. He tried to choose low fat and low salt or even oil-free and salt-free cooking. Moreover, consuming protein appropriately every day, not only help the muscle growth, but also provides better results for his health management!
| | |
| --- | --- |
| | |
| JianHao insists to have a three-hour exercise everyday. | Choose low-fat and low-salt diet. |