2014 NU SKIN Master Forum Professor David Ho – Changing The Future by Upholding Strong Beliefs (September 17, 2014)
2014 NU SKIN Master Forum
Professor David Ho – Changing The Future by Upholding Strong Beliefs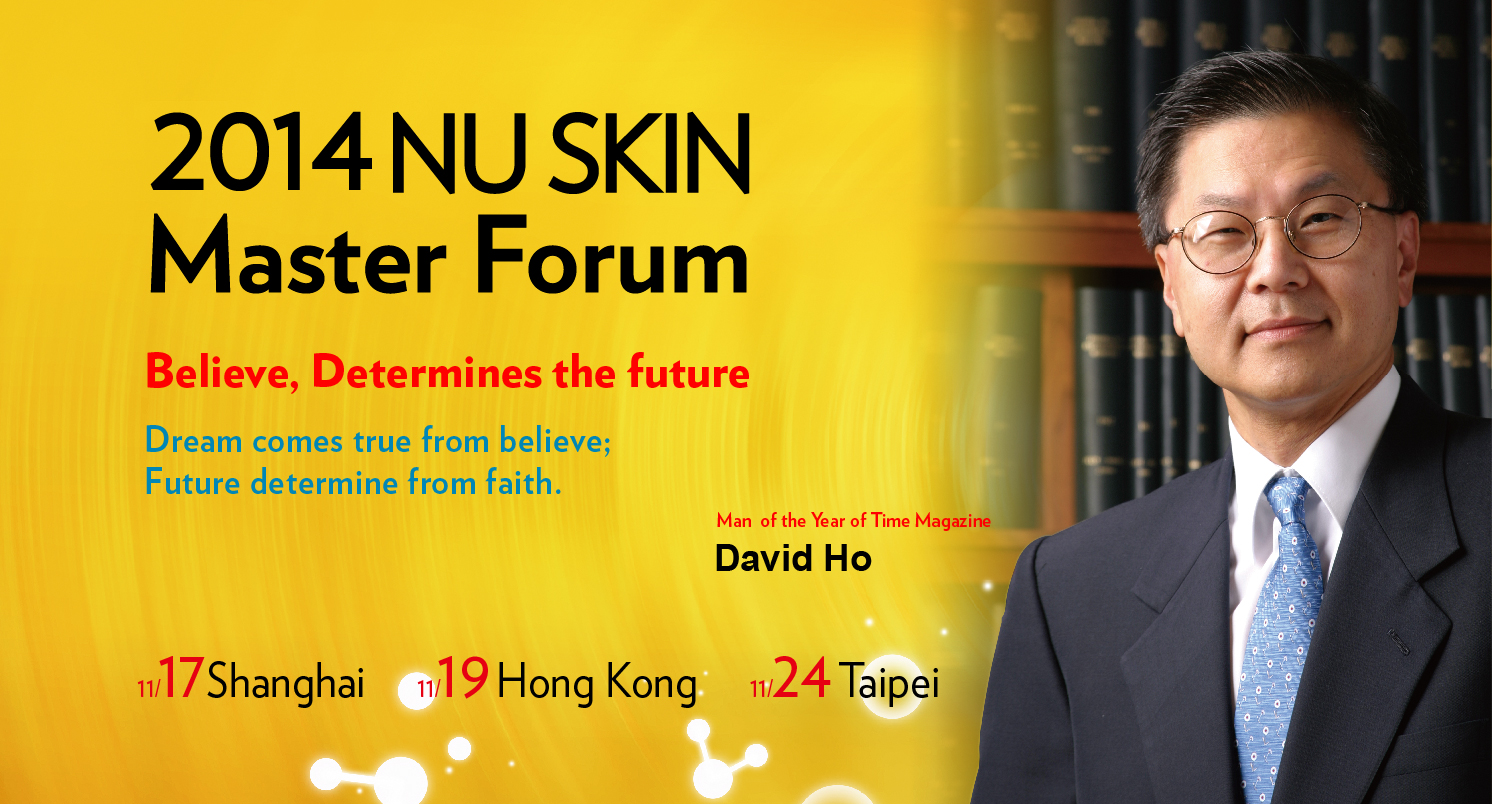 How does the power of beliefs change the future? 30 years ago, the first AIDS case was recognized in human history when Professor David Ho was an intern at a hospital. In the face of the unprecedented cunning and tough virus and seeing people suffering from AIDS, Professor David Ho started the research on AIDS virus for more than 30 years. We have invited Professor David Ho, who is now an authority in medical field, will give a presentation on "Belief, Determines the Future," to share with the business partners of how he confronts the AIDS virus, which is described as "the black plague" of the 21st century with strong belief and put power of beliefs into practice, to change the future of the HIV/AIDS patients, and make contribution to mankind.
In 1981, the US Centers for Disease Control and Prevention (CDC) reported the first AIDS case. That was the first time Professor David Ho met face-to-face with AIDS virus. At that time, as an intern, Professor David Ho had a young patient who had symptoms of pneumonia and brain disease, as well as many different infections. One or two months before being admitted to the hospital, this patient didn't feel anything wrong with his health. When he was admitted to the hospital, he only showed very weak resistance against diseases and the doctors had no idea about what kind of disease he was suffering from. Of course, we know today that this is "AIDS" (Acquired Immune Deficiency Syndrome). After a few weeks, that young patient died. After another few weeks, another patient was admitted to the hospital with the same symptoms. A few weeks later, another five patients with the same symptoms were admitted to the hospital one after another. Professor David Ho perceived such disease may have impacts on human beings and took an oath to commit himself to researching on this syndrome in the hope of finding a cure for it.
When Professor David Ho determined to research on AIDS virus, many people tried to dissuade him from doing it and don't waste his time because what he was facing was a very tough and changeable virus and nobody knows whether there will be any results on the research. Besides, in early days, some scientists and doctors were even afraid of being infected and putting themselves in a risky environment if they made this kind of research. However, Professor David Ho said, "You do what you should do, not what you could do." Eventually, he insisted on his decision to research on AIDS virus. With his strong belief and persistence, Professor David Ho and his colleagues jointly invented the world renowned "cocktail therapy", which is now a therapy that can effectively resist AIDS virus and prolong patients' life. His contribution to HIV/AISD treatment made himself named "Man of the Year" for 1996 by Time Magazine, which has made this Chinese scientist known by the whole world.
The achievements of Professor David Ho are highly praised and recognized with following awards and honors:
| | |
| --- | --- |
| Mayor's (NY) Award for Excellence in Science and Technology | Member, Institute of Medicine, National Academy of Sciences |
| Fellow, American Academy of Arts and Sciences | Member, Academia Sinica, Republic of China |
| Presidential Citizen Medal | Foreign Member, Chinese Academy of Engineering |
| Inductee, California Hall of Fame | Director and Professor, Comprehensive AIDS Research Center, Tsinghua University (part time) |
| Honorary Doctor of Science, University of Hong Kong | 11th World Outstanding Chinese Award |
Up till today, Professor David Ho is still fighting against AIDS virus. He believes that through scientific innovation and medical contribution, humans can find the cure to defeat AIDS one day.
Dream comes true from belief; Future determine from faith. 2014 NU SKIN Master Forum invites you to witness the power of beliefs.
| | | | |
| --- | --- | --- | --- |
|   | Shanghai | Hong Kong | Taipei |
| Date: | November 17 | November 19 | November 24 |
| Location: | Shanghai Grand Stage (Shanghai Gymnasium) | AsiaWorld-Expo | Taipei International Convention Center |
| Time: | 2:30pm to 4:30pm | 7:30pm to 10pm | 2:30pm to 4:30pm |
Please click here to visit the 2014 NU SKIN Master Forum website for more details