TR90 3-Month ADR Programme (ES)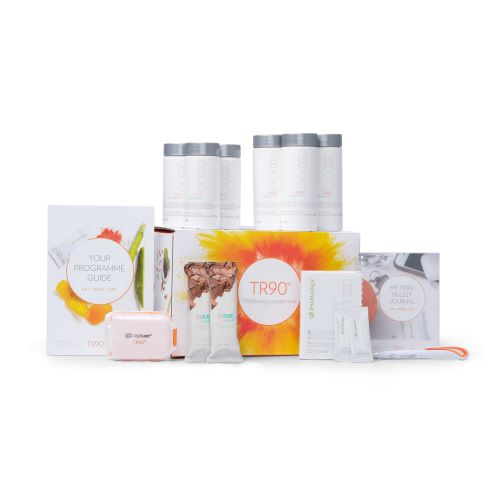 TR90 3-Month ADR* Programme (ES)
Your transformation starts here
TR90 is the weight man­agement programme that will unify your mind and body to help you achieve a better looking you. This innovative programme will empower you to reach your goals by targeting the sources that stand between you and your ideal body shape. Based on exclusive science that will help you stay motivated as you work towards your goal of unlocking your body's full potential, the TR90 3-Month ADR Programme will enable you to spread your cost over 3 months:
Month 1
1 month's supply of TR90 food supplements: 1 TR90 JS, 1 TR90 Complex C and 1 TR90 Complex F
1 month's supply of TR90 meal replacement bars (10 TR90 M-Bars Lemon Crisps and 20 TR90 M-Bars Chocolate), plus a voucher offering a 15% discount on 2 packs of TR90 M-Bars (30 units/pack)
1 TR90 Programme Guide
1 Transformation Journal with 1 TR90 pen
1 Multilayer Pill Box
Month 2 & 3
1 month supply of TR90 Complex C and TR90 Complex F
Please note that the price for month 2 and 3 will be 41.6% lower than month 1 package price.
*The Nu Skin ADR, or automatic delivery rewards, is a system for getting you your products on-time, in an automated way. Each month, the products you have chosen are conveniently delivered to you on the day you choose.