Epoch® Essential Oils - Experience Kit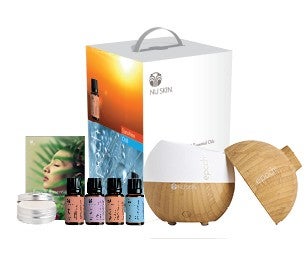 EPOCH® ESSENTIAL OILS - EXPERIENCE
Epoch Experience contains some of our most uplifting aromas, such as 1 Epoch Harmony, 1 Epoch Chill, 1 Epoch Sunshine, 1 Epoch Peace, 1 Epoch Diffuser, 1 Epoch Aromatic Stone and 1 Epoch brochure. A great introduction into the lore of essential oils, this unique collection comes beautifully packaged in a gift box. It is also easy to carry around thanks to its handle.
For detailed information about each individual product, please consult the single unit webshop pages.
More information about the full Epoch Essential Oils range is available here.
Please note that Epoch Essential Oils or orders containing Epoch Essential Oils cannot be shipped to Guernsey, Jersey, Isle of Man, Islands. Even if you succeed in placing your order, it will be blocked by the system and will not be delivered to you. Consult the list of shipping destinations available here or contact your local Customer Service for further assistance.
Product Details
ingredients

EPOCH® HARMONY : Cinnamomum zeylanicum ext, Eugenia caryophyllus oil, Cinnamal, Limonene, Eugenol, Linalool.

EPOCH® CHILL : Eucalyptus globulus Oil, Limonene, Citral.

EPOCH® SUNSHINE: Citrus grandis (Grapefruit) Peel Oil.

EPOCH® PEACE: Citrus aurantium bergamia (Bergamot) Fruit Oil, Eucalyptus radiata Flower/Leaf/Stem Oil, Limonene, Linalool, Eugenol, Farnesol.

Epoch® Aromatic Stone: made of Hydrated Calcium Sulfate.