Transformation Number = 3
TR90 gave me back the motivation to act on my health's benefit. I am now a renewed person. My transformation number is 3 because I gained my self esteem back in three months.
Inches Lost = 15 Weight Lost = 15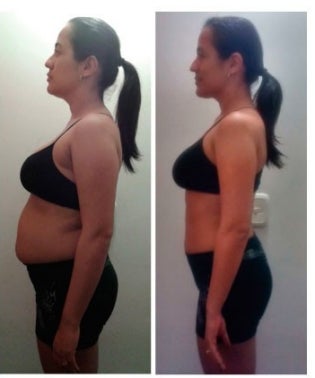 My name is Lina Chaparro, a normal woman who has always stood for giving the best of herself, and being optimistic and friendly.
My commitment to my work was becoming the priority of my life and it made me neglect myself. It got to the point that I was neglecting myself physically and had health similar to that of an elderly person. My stomach was that of a woman who had children and had not taken care of herself. My body was 42% fat and my muscle mass was quite low, in other words I didn't have a balance.
I was not satisfied with my life and I was very sad because of it. I would say that my story comes in two parts namely "Before and After TR90".
When they told me about TR90, I did not hesitate to do it, because I felt in my heart the determination to transform my life, since the science behind this system would help me achieve my goal "To be an active and happy woman in 3 months".
I could never have imagined the dimension of the word transformation, because I had to evaluate all aspects of my life. To reach the goal, I had to MAKE THE DECISION OF LOVING MYSELF and that was bigger and more important to me than to only follow the directions in the TR90 guide.
Loving myself, allowed me to enjoy the changes that I had to make, how to respect my time and my family's time, work fewer hours, sleep a bit more, have more space for physical activity , eat delicious and healthy food . It was simple, because aside from doing what was within my power, a powerful science called ageLOC was working my body comprehensively.
The result was higher than expected. Physically my body's fat index dropped to 32%, the percentage of muscle mass increased to 24, I lost 15 inches, I lost 7 kilos, and my body structure and vitality were similar to when I was 19 years old. In witnessing these changes I felt a sense of accomplishment. I never imagined that the decision to love myself would take me so far.
My husband Juan Pablo says "Nu Skin and TR90 gave me my wife back, these days she smiles and her self-esteem has returned".
Being chosen as the best result TR90 is the largest prize for which God has allowed me to have. I understood that to achieve any goal I had to let go of the fears, so today I can say "I was in bondage by my excuses; I am now free and successful!"
Nothing can stop your dreams, except you desire to be happy.