Help Us Make a Difference
Help Us Make a Difference
Please join us in making a difference in the lives of Epidermolysis Bullosa (EB) families across Canada – as well as assisting to raise much needed awareness around the world!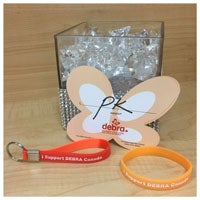 International EB Awareness Week October 25-31, 2016 - is a global campaign endorsed by the Dystrophic Epidermolysis Bullosa Research Association of America (DEBRA) International and all chapters worldwide, The EB Medical Research Foundation, by EURORDIS, CORD, NORD, and other non-profit organizations helping those with EB, rare diseases and skin diseases.

Once again, Nu Skin Canada will support International EB Awareness with the sale of DEBRA Canada fundraising wristbands, key chains and butterfly donation cards from October 25 - 31, 2016, at both the Vancouver and Mississauga Product Experience Centres and through online order donations.

Use the following numbers to purchase your DEBRA bracelets, key chains and donation cards online:

02130072 - $2.00 - DEBRA Butterfly Donation Card
02122831 - $2.00 - DEBRA Fundraising Key Chain
02122765 - $2.00 - DEBRA Fundraising Bracelet

Tell your friends, family and customers about this rare genetic disease which affects approximately half a million people world-wide. Together we can be the difference!