Colostrum MFT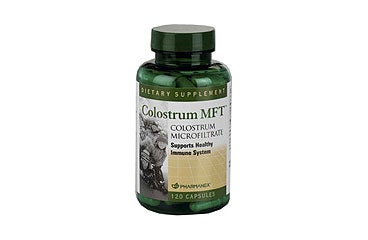 Colostrum MFT®
Pharmanex uses a patented, proprietary micro-filtration process to produce Colostrum MFT™ with a concentration of IgG more than 500 times that contained in raw milk. This process uses microfiltration instead of pasteurization, which can destroy beneficial components.
Colostrum MFT is clinically shown to boost primary immune functions by providing a concentrated spectrum of supplemental immune antibody proteins. It contains important oligosaccharides that support the immune system by preventing bacteria growth and binds with pathogens to promote general health of the gastrointestinal system.
Size: 120 capsules
Product Details
Benefits

Using proprietary techniques, Colostrum MFT™ is standardized to a minimum 50% Immunoglobulin G (IgG), the highest level of these actives in the industry.
Proprietary processing preserves the bioactivity of Colostrum MFT™ with minimal heat damage.
The technology and research behind Colostrum MFT™ began in 1987
Colostrum MFT™, and its related ingredients and technology have been subject to a dozen published papers in peer-reviewed journals.
Manufactured under the Pharmanex 6S process.

Usage

As a dietary supplement, take two (2) capsules twice daily, with morning and evening meals.