Tegreen97 120 capsules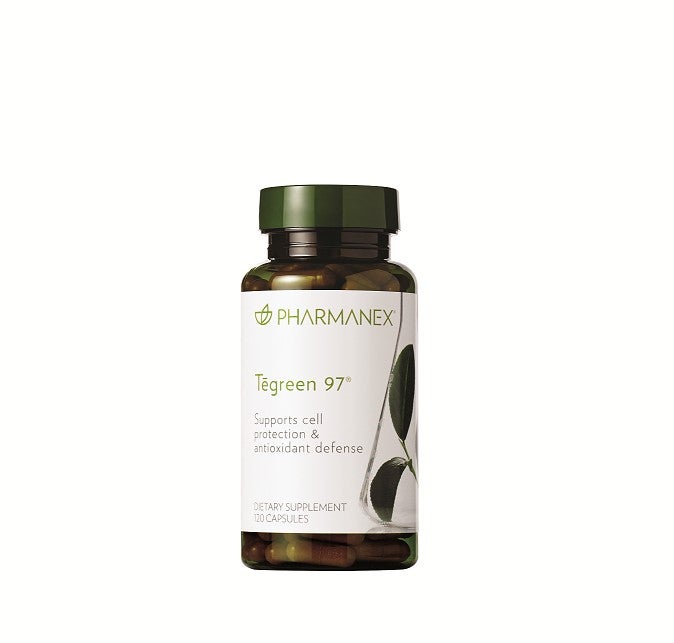 Tegreen97® (120 capsules)
This natural, caffeine-free green tea extract provides your body with antioxidant defense. It provides antioxidant support by combating free radicals that occur from pollution, stress,smoke and toxins. Also helps protect your healthy DNA cell structures. Contains the same polyphenol content of approximately 7 cups of traditionally brewed green tea.

Green Tea and Antioxidant
Green tea contains one of the most powerful antioxidants in the class of flavonoids. This group of flavonoids are further classified into polyphenols with catechins identified as the unique substance in green tea that provides much of its health benefits. Antioxidants have the ability to neutralize free radicals to prevent cell damage. It helps provides triple-cell protection by supporting the body in neutralizing three cell-jeopardizing substances: free radicals, mutagenic nitrosamines and potentially harmful toxins.

Product Details
Benefits

Supports potent antioxidant defense system against cellular free radical damage.
Supports healthy cell function while protecting cell structiures including DNA.
Interferes with the production of certain enzymes involved in cell damage.
Thermogenic effect increases the body metabolic rate.


Usage

For Daily Maintenance: Take 1 capsule each morning and evening
For Antioxidant Defense Maintenance: Take 2 capsules each morning and evening.

Ingredients

Green Tea leaf Extract (20:1) (Camellia sinensis), Millet, Gelatin (Halal), Magnesium Stearate (Vegetable), Magnesium Silicate, Silicon Dioxide.