Go Blue Faster Package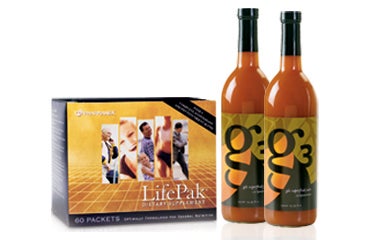 Go Blue Faster Package
Go blue faster with LifePak® and g3 Superfruit Blend!
LifePak® is a nutritional supplement with optimal levels of essential micronutrients scientifically formulated to support longevity and wellness. LifePak® provides a comprehensive array of antioxidants, vitamins, and minerals typically lacking in the average adult diet.
g3 is a nutrient-dense fruit juice that contains an exceptionally high amount of antioxidants whose nutritional benefits have been scientifically demonstrated to protect cells.
Product Details
Benefits

LifePak®


Powerful DNA protection with alpha-lipoic acid plus 20 protective nutrients that promote normal regeneration of your body's cells and their genetic information-DNA
Delivers cardiovascular support with natural vitamin E and B-vitamins, and a full spectrum of antioxidant phytonutrients
Addresses all common vitamin, mineral and trace element deficiencies with highly bioavailable and well-tolerated nutrients in the most appropriate dosages
Provides full-spectrum nutritional support for the immune system with vitamins A, C, E, B6, zinc, and a carotenoid blend
Complete bone nutrition with calcium, magnesium, vitamin D and many other bone nutrients
Supports normal blood sugar metabolism and insulin function
Promotes general well being

g3


Promotes the health of the eyes

Improves Skin Carotenoid Score (Provides body antioxidant protection)

Supports healthy immune function

Usage

LifePak®

• Two packets daily : Take the contents of one (1) LifePak® packet with eight (8) ounces of liquid with your morning and evening meals.

g3

• Shake before using, to ensure proper mixture of lipocarotenes™.
• Drink 30-90 ml with morning and evening meals. Refrigerate after opening. For optimal results, take with LifePak®.