Rejuvenating Cream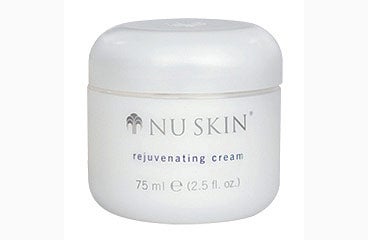 Rejuvenating Cream
A year-after-year Nu Skin favourite for drier skin types.
Formulated to address the special needs of dry skin, Rejuvenating Cream drenches skin in soothing moisture--improving its moisture-binding capability with the hydrating powers of hyaluronic acid and helping prevent water loss.
Daily use not only restores moisture, it helps keep dryness from returning.
Size: 75ml
Product Details
Key Ingredients

UV light activated colorless carotenoids provide powerful antioxidant protection against the environment.
Micronized zinc oxide shields against aging UVA and UVB damage, while minimizing shine.
Glycerin softens and hydrates skin.
Tocopheryl acetate pure form of vitamin E helps promote healthy looking skin.
Special blend made of chamomile, cornflower, and matricaria flower extracts help soothes the skin.

Usage

Apply a pearl-sized amount on skin. Avoid contact with eyes.

Product Claims

Quick-absorbing and non-greasy
Protects against moisture loss and gives the skin the ultimate in moisturization
Alleviates the look of fine dry lines and soothes and softens the skin
Contains conditioners like aloe vera, algae extract, royal jelly, tocopheryl acetate, and tocopheryl linoleate to make the skin look fresher and younger
Utilizes panthenol, cholecalciferol (vitamin D) and allantoin to soothe and soften the skin
Safety-Allergy-Dermatologist Tested

FYI

Carotenoids are a biologically important group of chemical compounds built by plants, algae and microorganisms. In photosynthetic organisms (organisms that use light to create energy), carotenoids can aid in the absorption of light, capturing additional energy which helps to neutralize tissue-damaging free radicals.
BARTLEY, G. E. & SCOLNIK, P. A. (1995)
Carotenoids are of interest for protective applications due to their biological properties. However, most carotenoids were previously impractical for cosmetic use because of their intense color.
SCITA (1992)
Most carotenoids tend to suffer severe degradation and loss of their antioxidation properties upon exposure to light and oxygen.
The algae, Dunaliella salina, displays a unique stability and is actually activated and more potent in the presence of UV light.
Most carotenoids were previously impractical for cosmetic use because of their intense color. Dr. Etienne Soudant, a Nu Skin Professional Advisory Board member, developed a patented new colorless carotenoid technology. By inhibiting the carotenoid biosynthesis pathway of the Dunaliella algae the production of pigment is arrested, resulting in the first ever carotenoids which are completely colorless.