Night Supply Nourishing Cream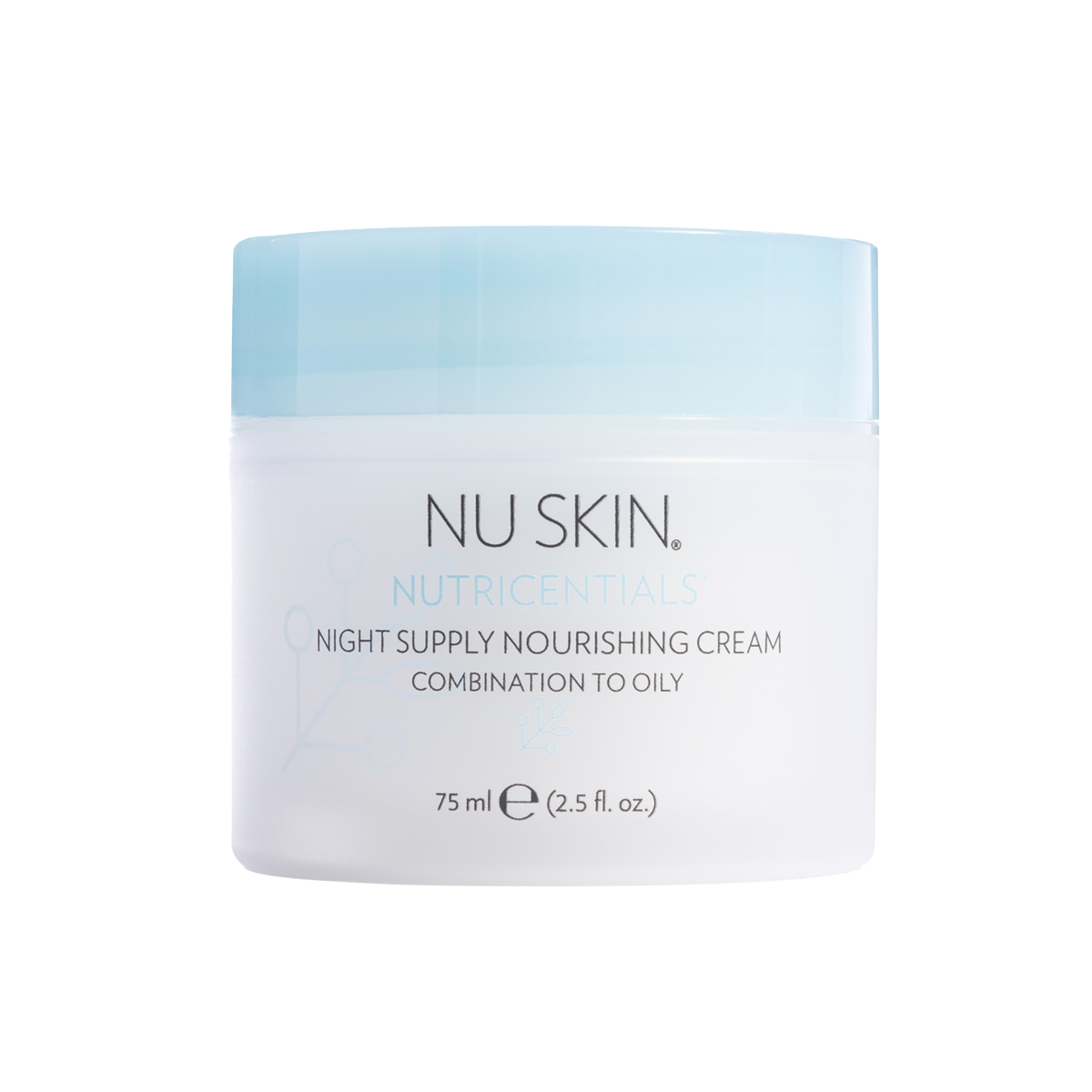 Night Supply Nourishing Cream
Optimize your skin's repair process at night. Night Supply Nourishing Cream boosts the skin's nighttime renewal process by restoring flexibility and resilience to the skin.
During sleep, your body naturally undergoes cellular maintenance. With age, however, skin cell membranes the outer walls that keep cells intact and fluid become rigid, losing their natural plasticity and plumpness. This results in dry, fine lines on the skin's surface.
Night Supply Nourishing Cream contains patented phosphatidylcholine to fortify cell membranes. A source of nourishment to the people of Asia and Polynesia, this unique soy ingredient helps replenish the skin's natural protective barrier.
With Night Supply Nourishing Cream, you wake up to noticeably soft, youthful looking skin.
Size: 50g
Product Details
Key Ingredients

Patented Phosphatidylcholine—helps restore flexibility and resiliency to the skin for increased smoothness and softness.
Vitamin E (tocopheryl acetate)—intercepts skin-damaging free radicals.
Macadamia nut oil, squalane, evening primrose oil, and shea butter—naturally derived emollients provide intense nighttime moisturization.
Herbal extracts of chamomile, calendula, and matricaria—comfort and soothe skin.

Usage

Apply in the evening after cleansing and toning. Smooth over face and neck using fingertips.

Product Claims

Phosphatidylcholine helps restore flexibility and resilience to cell membranes promoting smoother, softer skin
Tocopheryl acetate (vitamin E) intercepts free radicals
Naturally derived emollients, including squalane, evening primrose oil, and shea butter, enhance moisture retention
Herbal extracts of chamomile, calendula, and matricaria comfort and soothe skin
Advanced formula provides thorough hydration without the heavy, greasy feel typical of overnight creams
Unique creamy texture feels light and silky on the skin

Demonstration

"Keeping the grape a grape": To demonstrate what Night Supply Nourishing Cream does for the skin, bring grapes and raisins to your meeting and display them on a table. Explain that in order for a juicy plump grape to become a raisin, the individual cellular membranes that hold in the contents of each cell must lyse or burst and release the life-sustaining moisture within it. Cut a grape in half and allow some of the juice to drip out. Unfortunately, it's impossible to turn a raisin back into a fresh, vibrant grape. But, you can "keep the grape a grape" by protecting the integrity of its cellular membranes. As we age, our cell membranes, the structures that hold in vital contents and keep out damaging substances, become rigid and more prone to breakage. This leads to many of the common signs we associate with aging—dull complexions, saggy areas, and wrinkles. Night Supply Nourishing Cream works to fortify cell membranes to keep your skin healthy and youthful looking.

Usage

Phosphatidylcholine, which is derived from soy lecithin, is a natural occurring component of cells and one of the most abundant phospholipids in animals and plants. It is the major constituent of cell membranes, making up the phospholipid bilayer that keeps the outside out and the inside in.
"Since my business is concerned with beauty as well as health, I number many media personalities, models, and celebrities among my patients. They have to look great at all times—a strain for the rest of us even on our best days. These demands keep me searching for that next anti-aging miracle. I know I've found it: polyenylphosphatidylcholine, PPC for short (pp. 124–125)." —NICHOLAS PERRICONE, M.D., THE PERRICONE PRESCRIPTION