Nu Skin 180 Face Wash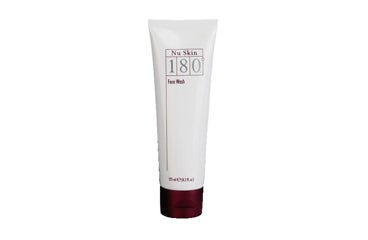 Nu Skin 180° Face Wash
Named "Healthiest Facial Cleanser of 2000" by Health Magazine, Nu Skin 180° Face Wash helps you cleanse away the signs of environmental aging.
Featuring 10 percent active, efficacious vitamin C, this advanced face wash is one of the most extraordinary anti-aging cleansers available. In addition to targeting age spots and discoloration, the rich, creamy formula helps support collagen production to diminish wrinkles and firm the skin.

Treat your skin to the ultimate anti-aging cleanser for a fresh, clean, more youthful complexion.
Size: 125ml

Product Details
Key Ingredients

Vitamin C—a necessary component of collagen production that helps diminish the appearance of lines and wrinkles and firm the skin. It also evens skin tone by working to reduce skin discoloration.
Sesame and soybean oils—rich emollients that prevent moisture loss and help maintain the skin's protective moisture barrier.
Grape seed, ginkgo biloba leaf, and ginseng extracts—minimize skin damaging free radicals.

Usage

Use morning and night as the first step in the Nu Skin 180°® System. Moisten face and neck with water. Place a small amount of cleanser onto fingertips. Apply to face and work into a lather. Rinse with water and pat dry. Avoid contact with eyes.

Product Claims

Smoothes lines and wrinkles.
Promotes a firmer, more youthful complexion.
Evens skin tone by helping reduce dark spots and discoloration.
Leaves skin feeling clean, fresh, and soft.
Features a patented waterless formula that delivers 10 percent active, free-flowing vitamin C (L-ascorbic acid) to the skin.

Demonstration

Fill glass with regular tap water
Add iodine until water is a rusty brown color
Squeeze a spoonful of Nu Skin 180 Face Wash into the iodine-water solution and stir.
Stir the iodine solution with Nu Skin 180 Face Wash

When iodine, naturally a rusty brown color, binds to active vitamin C, it turns white. Iodine will not bind to vitamin C if it is not active.