ageLOC® LumiSpa® iO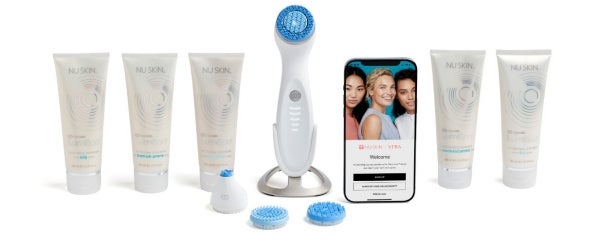 Note: These materials have been prepared for use in the U.S. only, as product availability and claims may vary by market. Those in other markets should contact their local Nu Skin PR team or office.
The new ageLOC® LumiSpa® iO is a smart skin treatment and cleansing device with a connected, immersive experience. Featuring Nu Skin's patented micropulse technology, the LumiSpa iO system takes personalized beauty to a new level with customized treatment options, intelligent coaching, skincare routine tracking and more. The ageLOC LumiSpa iO is the latest innovation from the world's best-selling brand for beauty device systems for five consecutive years.*
The ageLOC LumiSpa iO system includes the LumiSpa iO device, three non-abrasive treatment head options and five cleanser options that are scientifically formulated to enable precise cushioning, cleansing and interaction with the skin. In conjunction with the Nu Skin Vera™ app, the ageLOC LumiSpa iO unlocks a new world of personalized skincare experiences.
Using the Nu Skin Vera app, users can create and save customized facial treatments that target key areas including the face, neck and décolleté, as well as treatments that target the gentle skin around the eyes with the ageLOC LumiSpa Accent attachment. Users can track usage, earn badges and awards, and receive tailored product recommendations based on skincare goals. Intelligent coaching with the device's smart sensors helps guide optimal movement and pressure of the device during treatments.
Benefits + Results
•Seven clinically proven facial skin benefits with twice daily use: softness, smoothness, radiance, clarity, purified skin, reduced pore appearance and visibly improved firmness.
•Designed to be microbiome friendly, LumiSpa iO respects the skin's pH, helps preserve its natural moisture barrier and doesn't disrupt the skin's natural microbiome balance—no matter your age or skin type.
•Three treatment heads available– Gentle, Normal, and Firm – to address all skin types.
•Intelligent coaching with smart sensors guides you to achieve optimal movement and pressure during treatments.
•Optimally designed for use with five different ageLOC LumiSpa Treatment Cleansers: Dry, Normal to Combination, Oily, Sensitive, and Acne. Treatment cleansers are formulated with Nu Skin's proprietary ageLOC ingredient blend to target the sources of aging.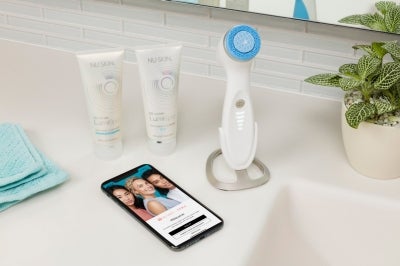 Nu Skin Vera app pairs with ageLOC LumiSpa iO
Nu Skin Vera App
The smart, rechargeable ageLOC LumiSpa iO device pairs with the Nu Skin Vera app to offer a personalized skincare experience, including:

Skin consultation. An intuitive digital skin consultation tool uses a guided questionnaire to discover more about the user's skin and lifestyle. Users can also snap a photo and leverage the app's artificial intelligence (AI) technology to identify possible skin concerns. An advanced algorithm provides personalized product recommendations. 
Tutorials. Synchronized treatments provide a step-by-step guide to more youthful, healthy-looking skin.
Intelligent coaching. Smart device sensors intelligently guide users to achieve optimal movement and pressure during treatments. The smart sensors also recognize which treatment head is attached and alert the user when it's time to replace.
Customized facial treatments. Send and save personalized treatments from phone to device with the app or create customized treatments by adjusting the time and facial areas, e.g., treatments for morning or evening, or after a workout or heavy makeup use.
Selfie timeline. See skin's progress over time—week to week, month to month, or any day in between with the selfie timeline. Sharing features in the Vera app makes it easy to share before-and-after results with friends.
Usage
Use twice daily with any of the five ageLOC LumiSpa Treatment Cleansers on the face, neck and décolleté

Price
ageLOC LumiSpa iO is now available in the U.S. for $250