Life At The Call Center
Life At The Call Center
We like to work hard, but we also like to play hard. Nachos, popcorn, and pizza days; team competitions; prize drawings; and BBQs are all frequent occurrences here at Nu Skin's Call Center.
We also want to be upfront with you. While we do have tons of fun here and think we have the best employees around, at the end of the day this is a call center position—the majority of your shift will be spent sitting in a cubicle and talking on the phone. If you are someone who constantly needs to be active or hates talking on the phone, it probably is not the right fit for you.
This position can be very rewarding though—you are helping our distributors build their business, which is a big deal. On rare occasions you may get a difficult caller; however, that just means they need some extra attention from us, and you will be trained on how to deal with this type of situation. Being an inbound Call Center, the majority of your calls will be from distributors who love talking with you.
In our department we strive to follow Nu Skin's motto to be a Force for Good in our community. Whether it is providing sleeping bags for the homeless shelter, or volunteering at the Boys and Girl Club, throughout the year you will be able to participate in various activities centered around helping out those in need.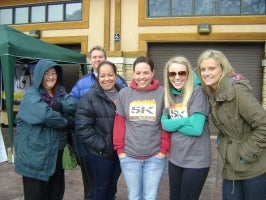 Force For Good Sevice Activity